THE DEEP SLEEP &
SUSTAINED ENERGY SOLUTION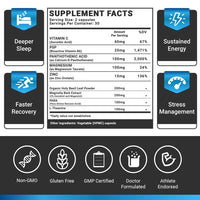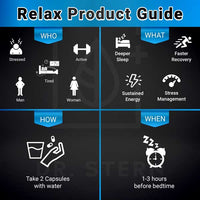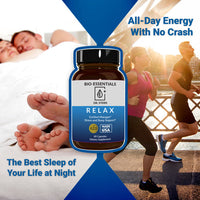 THE DEEP SLEEP &
SUSTAINED ENERGY SOLUTION
Highlights
Trouble sleeping? - Sluggish mornings? Mid-day crash? These are all symptoms of an overworked and undernourished Adrenal System. Health expert and author of The Adrenal Blueprint, Dr. Ian Stern wants to help you feel your very best
Lower Stress - It's not just "in your head". Stress is real.. "Relax" will act as your support, not allowing Cortisol and Adrenaline to disrupt your sleep or sap your energy.
Natural, Sustained Energy - Relax is a natural yet powerful supplement that nudges your adrenal system back into a state of healthy balance. Consistently drift off into a deep, restorative sleep at night and wake up with the energy you need for the day ahead.
Treat the problem at the core - Nine of the highest- quality healing plants, responsibly gathered from all over the world and combined by the doctor that has already helped thousands of people turn back the clock on low energy, Dr. Ian Stern. Years of research and testing went into this unrivaled, synergistic formula. Zero fillers. Zero Additives. Just the absolute best.
Order Now with Zero Risk - "Relax," you're protected by our 60 Day Money-Back Guarantee and industry-leading customer service. We're sure that you'll love the way you feel, we guarantee it.
Product Facts
Packaging: Amber bottle preserves capsules and the environment
Serving Size: 2 capsules
Number of Servings per bottle: 30
Suggested Usage
Swallow 2 capsules with water 1-3 hours before bed.
For best results use daily.
Benefits
Life can be stressful. Work, relationships. exercise, and even cell phone blue-light can spike our stress levels and tax our adrenal systems. This causes poor quality sleep and low energy levels. Relax is a natural supplement designed to nourish your adrenal system and support your body's ability to relieve stress. This allows deeper, more restful sleep at night and an invigorated energy in the morning.
Why is Monthly Subscription the Popular Choice?
Saves You Money
Get our VIP Pricing! You'll save 15% on every order + shipping will be on us. Enjoy as those savings add up.
Improves Results
No more running out and waiting to reorder. Get the best results by staying consistent and not having to worry about running out.
Exclusive Access
As a club member you will gain access to exclusive course content, question and answer sessions, and product launches.
---
Ready to join the club?
Step 1: Scroll to the top of the page
Step 2: Select "Subscribe" when adding to cart
Step 3: Complete the checkout process and you're in! Congratulations to you.
Ingredients
Magnolia Bark
Works as an anxiolytic, helping to lower anxiety and depression and reduce stress. Magnolia bark can also act as a sedative, directly helping to facilitate sleep.
L Theanine
Naturally found in tea, L-Theanine boosts alpha brain waves, and promotes alert relaxation.
Vitamin C
Shown to be a crucial nutrient in the body's ability to fight elevated cortisol.
Organic Holy Basil
Revered for thousands of years in Eastern medicine, the holy basil plant acts as an adaptogen. ( A natural substance that helps your body adapt to stress and promotes mental balance).
Zinc Orotate
A mineral salt naturally found in the human body. Shown to improve quality and length of sleep in humans, as well as the ability to recall dreams.
PABA
A naturally occurring amino acid PABA help promote a calm, relaxed state
Magnesium Taurate
Supports healthy adrenal function and is critical in helping the muscular system relax properly after periods of stress.
Pantothenic Acid
Essential for healthy adrenal function and great for relieving stress and anxiety.
P5P
Another name for B6, this nutrient opens the door to deep relaxation by boosting serotonin and dopamine levels, increasing your natural melatonin production.
Nutrition Information
Servings Per Container:
30
Amount Per Serving:
% Daily Value
VITAMIN C
(Ascorbic Acid)
60mg
67%
P5P
(Bioactive Vitamin B6)
25mg
1,471%
PANTHOTHENIC ACID
(as Calcium D-Pantothenate)
100mg
2,000%
MAGNESIUM
(as Magnesium Taurate)
100mg
24%
ZINC
(as Zinc Orotate)
15mg
136%
Organic Holy Basil Leaf Powder
200mg
†
Magnolia Bark Extract(2% Honokiol and Magnoli)
200mg
†
PABA(Para-aminobenzoic Acid)
100mg
†
L-Theanine
100mg
†


Other Ingredients: Vegetable (HPMC) capsule

---

† Daily Value not established.
Quality
Relax has consistently been our best-selling formula. It is loved and trusted by professional UFC fighters, working moms and everyone in between. Thousands of people order it every month to get the best quality sleep, relieve stress, and have the most energy for the day ahead.
We pay money to make sure that every batch meets the highest ethical and professional standards. We are certified by BSCG, the gold standard in supplement testing. Each batch is rigorously tested for over 500 banned substances and contaminants. That means that everyone (even professional and Olympic athletes) can take Relax with confidence knowing that each capsule contains exactly what's on the label, and nothing else.
Free of additives, allergens, and inactive ingredients
You shouldn't have to compromise with what you put in your body when taking a health supplement. There's no need to talk about what other supplement companies put in their products to make manufacturing cheaper and faster. Our focus is on you. To help you live a long, healthy life by making Relax as clean as the crystal-clear waters of a glacial lake. That means zero inactive ingredients. No GMOs, no corn, no gluten, no soy, and no mixing agents or fillers.
Synergistic Blend of 9 Powerful Ingredients
You won't find another formula like this on the market because it simply does not exist. Dr Stern spent years researching each and every ingredient to find which ones work best together to maximize your results.
How to Use
Daily Usage
Relax works best when taken everyday several hours before bed. It gently supports your body's natural ability to lower stress and deepen sleep, so there is no risk of dependence or withdrawal like other sleep products.
Maximize Results
Relax is an amazing natural supplement to add into your routine to help improve the way you feel. However, supplements are only one piece of the puzzle. That is why, included with your order is my e-book "The Adrenal Health Blueprint," which will go over every lifestyle change possible to maximize results. It will cover important subjects such as meditation, phone blue light, exercise timing, and diet.
Pairs Well With
If you're looking for an extra health boost, try pairing Relax with our Probiotic formula, Rebalance. Gut health has been shown to play a substantial role in mood, energy levels, and even sleep quality.
Best sleep aide ever
I take this every night and have the best sleep of my life.
RELAX - THE DEEP SLEEP & SUSTAINED ENERGY SOLUTION
Thank you for your review!
Give it a try
I am horrible at sleep. Always have been, my family struggles as well. I've used all the remedies, and found that I didn't love the harder drugs because I could never shake off the fog. I've been taking relax for 4 years now, and it really helps. I won't tell you it cured my issues, but I will say that I have more deep sleep and have a much better chance of actually sleeping and recovering. Definitely would and have recommended to anyone with ears and a sleeping issue!
So glad that our Relax is helping you sleep better. Please let me know if you have any questions.
Relax
It definitely helps me to relax!
Very happy to know this. Thanks for sharing!