WOMEN'S ESSENTIALS COMPLETE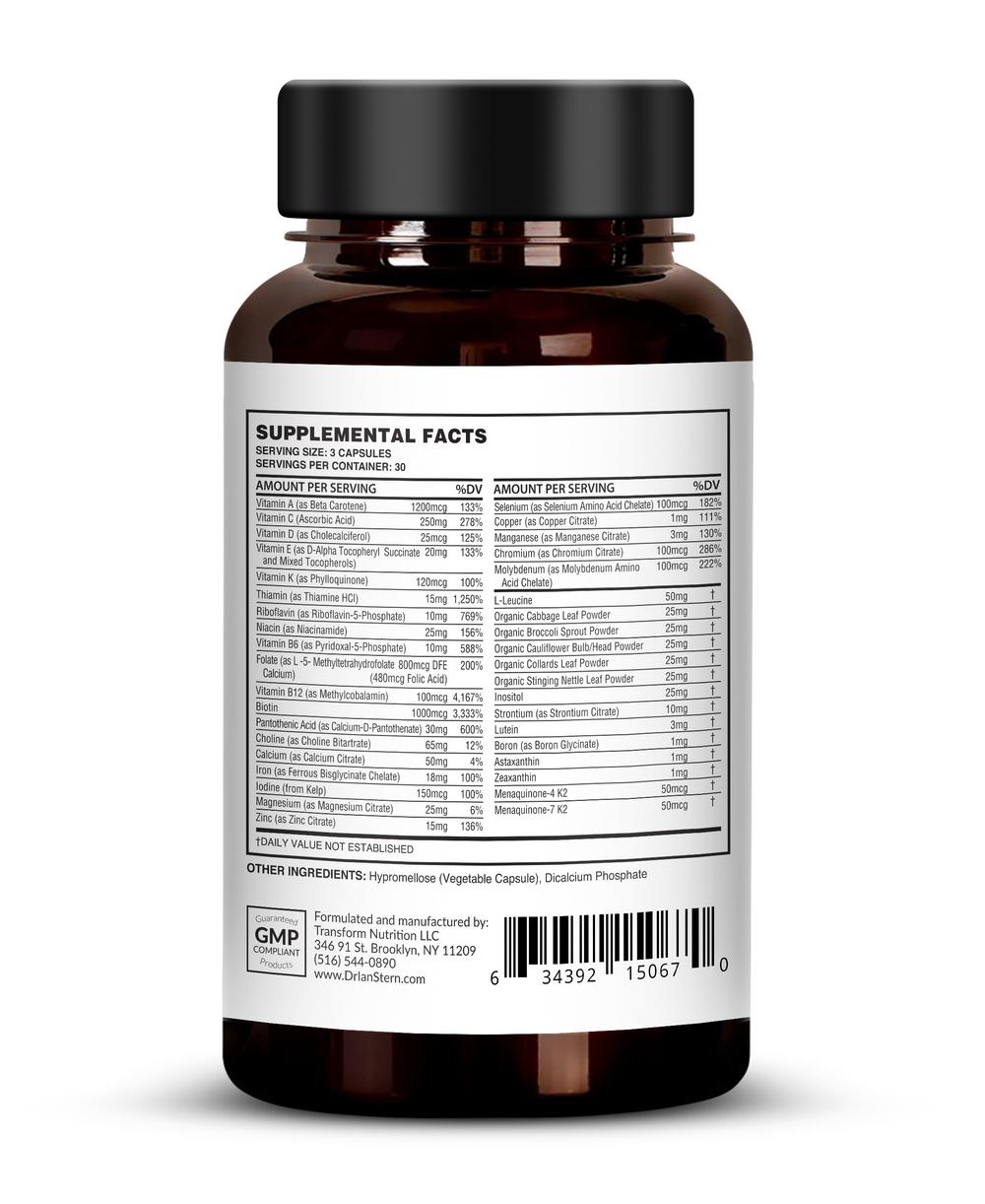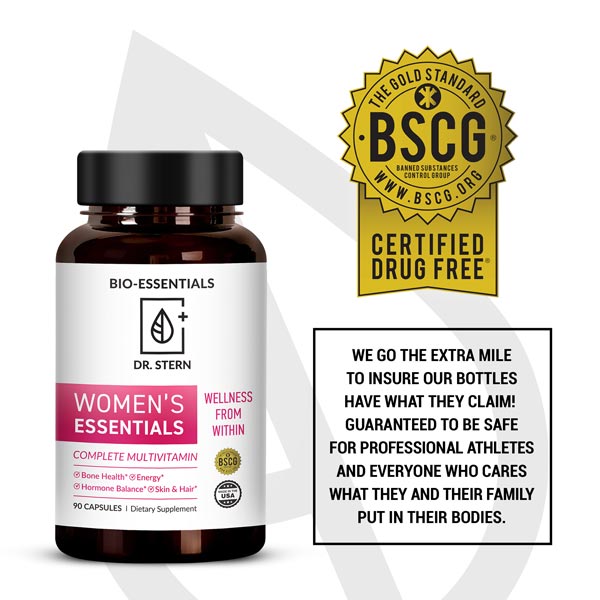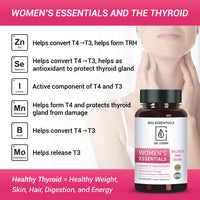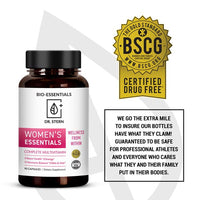 WOMEN'S ESSENTIALS COMPLETE
Multi - Vitamin/Mineral & Organic Phytonutrients
Highlights
Energy Production Support - B-vitamins play essential roles in many important functions of your body, including energy production, nervous system function, immune system function, and the synthesis of neurotransmitters like dopamine and GABA. WOMEN'S ESSENTIALS uses methylated and bioactive b vitamins including methylated folic acid and methylated b12 for optimal assimilation and better utilization by the body to ensure you are not just taking vitamins that will have no positive effects.
Thyroid Support For Healthy Metabolism, Skin And Hair - If your thyroid isn't supported, hair and skin health will be compromised along with possible digestion issues, fatigue, and weight gain. WOMEN'S ESSENTIALS provides specially chelated zinc, selenium, iodine, boron, manganese and molybdenum to fully support thyroid gland health including the critical conversion of t4 to t3.
Eye Health - Lutein/Zeaxanthin Astaxanthin are a unique blend of carotenoids that support the macula and overall visual function. They have antioxidmt properties to help support the integrity and density of the macular pigment through antioxidant properties. In addition, they help form a protective layer that filters light, maintaining healthy photoreceptor function in the macula.
Liver Support And Estrogen Balance - WOMEN'S ESSENTIALS provides phytonutrients in from organic cruciferous vegetables that go beyond a one-time cleanse. Their unique properties provide an organic source of DIM (diindolemethane) to support healthy estrogen metabolism. Many cleansing strategies force your liver to "flush" itself out. Not only is this unnatural, it leads to a variety of unpleasant symptoms. Cruciferous foods support your liver's natural functions, avoiding those pitfalls.The best way to support your liver, targeting both Phase I and Phase II cleansing reactions. Cruciferous vegetables helps your body to function naturally by assisting your body's normal antioxidant systems.
Stomach Friendly Iron - It's common for women to be deficient in iron and yet with the harsh and cheap iron formulas on the market they are unable to take them for fear of gi distress and constipation. WOMEN'S ESSENTIALS uses the easier to absorb ferrous bis glycinate. Food fortification reports examining ferrous glycinate chelate have shown that it can be 2.5-3.4 times more bioavailable than ferrous sulfate, with minimal gastrointestinal symptoms
Bone Density Support - Having healthy bones is so important for women of all ages. WOMEN'S ESSENTIALS goes beyond any multi by providing critical nutrients needed for healthy bone missing in most formulas. Zinc, copper, c, d, calcium, and magnesium are vital and most multis have them. The problem is they are not easily assimilated by the body.

WOMEN'S ESSENTIALS uses highly absorbable chelates that make them more effective. Plus womens essentials has vitamin k2, boron, and the much researched strontium to ensure nothing was missing for women to feel good about their bone health.
Order Now with Zero Risk - You're protected by our 60- Day Money-Back Guarantee. Love the results or get a full refund. No questions asked.
Product Facts
Packaging: Amber bottle preserves capsules and the environment
Serving Size: 3 capsules
Number of Servings per bottle: 30
Suggested Usage
Take 3 capsules once daily or divided throughout the day with food. For best results use daily.
Benefits
Energy Production Support
Thyroid Support For Healthy Metabolism, Skin And Hair
Eye Health
Liver Support And Estrogen Balance
Stomach Friendly Iron
Bone Density Support
Why is Monthly Subscription the Popular Choice?
Saves You Money
Get our VIP Pricing! You'll save 15% on every order + shipping will be on us. Enjoy as those savings add up.
Improves Results
No more running out and waiting to reorder. Get the best results by staying consistent and not having to worry about running out.
Exclusive Access
As a club member you will gain access to exclusive course content, question and answer sessions, and product launches.
---
Ready to join the club?
Step 1: Scroll to the top of the page
Step 2: Select "Subscribe" when adding to cart
Step 3: Complete the checkout process and you're in! Congratulations to you.
Ingredients
BORON
Helps convert t4 to t3.
MANGANESE
Helps form T4 and protects thyroid gland from damage
SELENIUM
Helps convert T4 to T3, helps as antioxidant to protect thyroid gland
ZINC
Helps convert T4 to T3, helps form TRH
MOLYBDENUM
Help release T3
IODINE
Active component of T4 and T3
Nutrition Information
Servings Per Container:
30
Amount Per Serving:
% Daily Value
Vitamin A (as Beta Carotene)
1200mcg
133%
Vitamin C (Ascorbic Acid)
250mg
278%
Vitamin D
(as Cholecalciferol)
25mcg
125%
Vitamin E
(as D-Alpha Tocopheryl Succinate and Mixed Tocopherols)
20mg
133%
Vitamin K
(as Phylloquinone)
120mcg
100%
Thiamin (as Thiamine HCI)
15mg
1,250%
Riboflavin
(as Riboflavin-5-Phosphate)
10mg
769%
Niacin (as Niacinamide)
25mg
156%
Vitamin B6 (as Pyridoxa1-5-Phosphate)
10mg
588%
Folate (as L -5- Methyltetrahydrofolate 800mcg DFE Calcium)
(480mcg Folic Acid)
200%
Vitamin B12
(as Methylcobalamin)
100mcg
4,167%
Biotin
1000mcg
3,333%
Pantothenic Acid
(as Calcium-D-Pantothenate)
30mg
600%
Choline
(as Choline Bitartrate)
65mg
12%
Calcium (as Calcium Citrate)
50mg
4%
Iron (as Ferrous Bisglycinate Chelate)
18mg
100%
Iodine (from Kelp)
150mcg
100%
Magnesium (as Magnesium Citrate)
25mg
6%
Zinc (as Zinc Citrate)
15mg
136%
Selenium (as Selenium Amino Acid Chelate)
100mcg
182%
Copper (as Copper Citrate)
1mg
111%
Manganese (as Manganese Citrate)
3mg
130%
Chromium (as Chromium Citrate)
100mcg
286%
Molybdenum
(as Molybdenum Amino Acid Chelate)
100mcg
222%
L-Leucine
50mg
†
Organic Cabbage Leaf Powder
25mg
†
Organic Broccoli Sprout Powder
25mg
†
Organic Cauliflower Bulb/Head Powder
25mg
†
Organic Collards Leaf Powder
25mg
†
Organic gorging Nettle Leaf Powder
25mg
†
Inositol
25mg
†
Strontium (as Strontium Citrate)
10mg
†
Lutein
3mg
†
Boron (as Boron Glycinate)
1mg
†
Astaxanthin
1mg
†
Zeaxanthin
1mg
†
Menaquinone-4 K2
50mcg
†
Menaquinone-7 K2
50mcg
†

---

† Daily Value not established.
Quality
Made in the USA under the highest industry standards
Our product is manufactured, boxed, and shipped, in our state-of-the-art US facility and always will be in order to maintain the impeccable quality that you deserve.
We pay money to make sure that every batch meets the highest ethical and professional standards. We are certified by BSCG, the gold standard in supplement testing. Each batch is rigorously tested for over 500 banned substances and contaminants. That means that every women (even professional and Olympic athletes) can take Women's Multivitamins with confidence knowing that each capsule contains exactly what's on the label, and nothing else.
Free of additives, allergens, and inactive ingredients
You shouldn't have to compromise with what you put in your body when taking a health supplement. There's no need to talk about what other supplement companies put in their products to make manufacturing cheaper and faster. Our focus is on you. To help you live a long, healthy life by making Women's Multivitamins as clean as the crystal-clear waters of a glacial lake. That means zero inactive ingredients. No GMOs, no corn, no gluten, no soy, and no mixing agents or fillers.
Synergistic Blend of Many Powerful Ingredients
You won't find another formula like this on the market because it simply does not exist. Dr Stern spent years researching each and every ingredient to find which ones work best together to maximize your results.
How to Use
Daily Usage
Women's Multivitamins works best when taken everyday. Take with food for best absorption.
Maximize Results
Women's Multivitamins is an amazing natural supplement to add into your routine to help improve the way you feel. However, supplements are only one piece of the puzzle. That is why I will continue to support you on your journey to great health with e-mails, videos, and other free informative content.
Pairs Well With
If you're looking for an extra health boost, try pairing Women's Multivitamins with our Probiotic formula, Rebalance. Gut health has been shown to play a substantial role in suppressing inflammation and alleviating joint pain.