REBALANCE PROBIOTIC FORMULA
DESIGNED TO HELP YOU ELIMINATE DIGESTIVE DISCOMFORT AND OPTIMIZE YOUR GUT HEALTH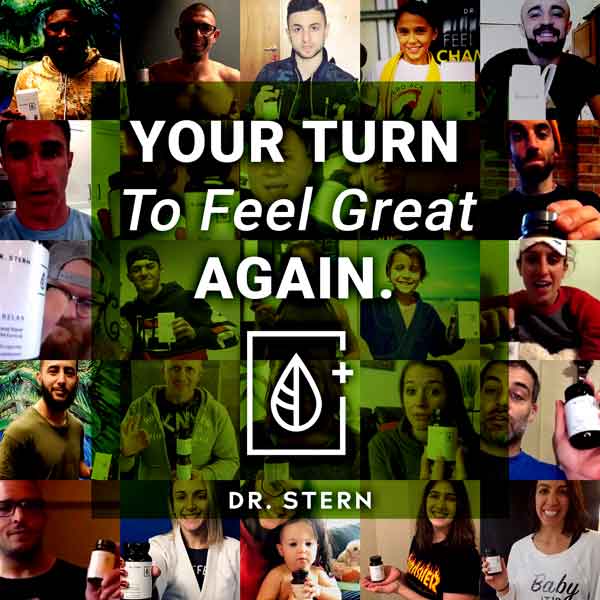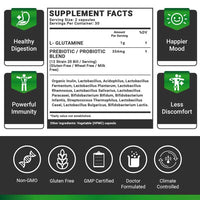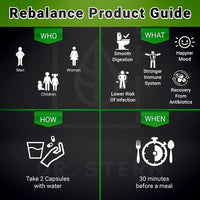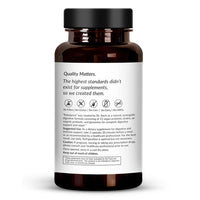 REBALANCE PROBIOTIC FORMULA
DESIGNED TO HELP YOU ELIMINATE DIGESTIVE DISCOMFORT AND OPTIMIZE YOUR GUT HEALTH
Highlights
Bloating? Constipation? "Brainfog?" - These are all symptoms of poor gut health. Inside your belly is a delicate ecosystem of good and bad bacteria. Modern toxins kill off good bacteria, leaving the bad bacteria to run amok. It's time to restore order with Rebalance.
You deserve to feel good - We understand how digestive discomfort can ruin your day. That's why Rebalance goes above and beyond to help you feel good quickly. 12 powerful Probiotic Strains, an Organic Prebiotic, plus L-Glutamine to help with "Leaky Gut."
Climate-controlled goodness - Unlike other probiotic supplements that can lose potency as they sit in hot warehouses, Rebalance is only stored in our state of the art climate-controlled facilities. This ensures that the bottle that you receive is filled with live bacteria to help you get the results you need.
Ingredients you can trust - Nothing goes in our formula that we wouldn't feel comfortable giving to our own families. No animal products, no GMOs, no fillers, additives, or inactive ingredients. No compromises on quality. No compromises on health. That's our motto and it's something we take very seriously. That's why we can proudly stand behind each and every bottle we sell.
100% Money Back Guarantee - You're protected by our 60 Day Money-Back Guarantee and industry-leading customer service. We're sure that you'll love the way you feel, we guarantee it.
Product Facts
Packaging: Amber bottle preserves capsules and the environment
Serving Size: 2 capsules
Number of Servings per bottle: 30
Suggested Usage
Swallow 2 capsules with water on an empty stomach.
For best results use daily. Refrigerate after opening if possible.
Benefits
Your digestive tract is a diverse ecosystem, home to billions of microorganisms. The "good ones," known as probiotics, provide valuable support for healthy digestion, immune function and many other vital processes throughout the body. Too much "bad bacteria" in your gut could lead to inflammation, digestive problems, low energy, and even depression. Rebalance is formulated by Dr Ian Stern CCN and contains 12 specifically selected probiotic strains, an Organic prebiotic, and L-Glutamine. This synergistic blend helps restore balance so that you can feel confident and healthy.
Why is Monthly Subscription the Popular Choice?
Saves You Money
Get our VIP Pricing! You'll save 15% on every order + shipping will be on us. Enjoy as those savings add up.
Improves Results
No more running out and waiting to reorder. Get the best results by staying consistent and not having to worry about running out.
Exclusive Access
As a club member you will gain access to exclusive course content, question and answer sessions, and product launches.
---
Ready to join the club?
Step 1: Scroll to the top of the page
Step 2: Select "Subscribe" when adding to cart
Step 3: Complete the checkout process and you're in! Congratulations to you.
Ingredients
L-Acidophilus
Discovered by Nobel Prize Winner Liya Metchinoff, this is the most popular probiotic for good reason. It has been shown to have a wide range of benefits including helping with digestive issues and reducing inflammation.
L-Bulgaricus
The longevity of the Bulgarian people has long been attributed to their consumption of this probiotic strain. Bulgaricus works to keep the pH balance in the gastrointestinal tract lower so that unhealthy bacteria cannot take hold and colonize.
L-Casei
Has been shown to help eliminate constipation and restore healthy, regular elimination.
L-Salivarius
Lives mostly in your mouth fighting off bad bacteria and keeping your teeth and gums healthy and clean. That way you can show off your healthy breath when it's time to get up close for a kiss.
B-Infantis
Like it's name suggests it is important to the development of the immune system of newborns. Keeping the levels of this bacteria high can help you stay healthy and allergy-free in every stage of life.
B-Bifidum
Works well in preventing diarrhea by restoring a balanced state to your gut.
L-Paracasei
Has been shown to help with chronic fatigue syndrome. By stabilizing these levels, you can create a better internal state for energy and happiness.
L-Fermentum
This is a "hidden gem" amongst probiotic strains because it has many promising health benefits such as boosting the immune response, improving liver health and lowering cholesterol levels.
L-Plantarum
A kind of beneficial bacteria that is commonly found in Korean kimchi, sauerkraut, and cultured vegetables! L- plantarum lives in your gut and keep pathogenic disease-causing microorganisms from flourishing.
L-Rhamnosus
Can help alleviate allergies, asthma, and dermatitis. It has even been studied for its weight-reducing and anti-cancer properties.
S-Thermophilus
Has been studied for its effects on improving skin moisture, and relieving symptoms of GI.
B-Lactis
May help to combat obesity. In a human study, people that were fed this strain everyday lowered their cholesterol and Body Mass Index.
L-glutamine
An essential amino that permeates your stomach lining and helps fight "leaky gut." It keeps more of the bad stuff out and the good stuff in for better nutrient absorption.
Inulin Prebiotic
Provides fuel for the probiotics, allowing them to stay healthy and alive for longer.
Nutrition Information
Servings Per Container:
30
Amount Per Serving:
% Daily Value
L-GLUTAMINE
(Ascorbic Acid)
1g
†
PREBIOTIC / PROBIOTIC BLEND
(12 Strain 20 Bill / Serving)
(Gluten-Free / Wheat Free / Milk Free)
334mg
†
Organic Inulin, Lactobacillus, Acidophilus, Lactobacillus Fermentum, Lactobacillus Plantarum, Lactobacillus Rhamnosus, Lactobacillus Salivarus, Lactobacillus Paracasei, Bifidobacterium Bifidum, Bifidobacterium Infrantis, Streptococous Thermophilus, Lactobacillus Casei, Lactobacillus Bulgaricus, Bifidobacterium Lactis.


Other Ingredients: Vegetable (HPMC) capsule

---

† Daily Value not established.
Quality
Made in the USA w/ the highest ethical scrutiny
Made in the USA under the highest industry standards. Our product is manufactured, boxed, and shipped, in our state-of-the-art, temperature-controlled US facility in order to maintain the impeccable quality that you deserve.
We pay money to make sure that every batch meets the highest ethical and professional standards. We are certified by BSCG, the gold standard in supplement testing. Each batch is rigorously tested for over 500 banned substances and contaminants. That means that everyone (even professional and Olympic athletes) can take Rebalance with confidence knowing that each capsule contains exactly what's on the label, and nothing else.
Free of additives, allergens, and inactive ingredients
You shouldn't have to compromise with what you put in your body when taking a health supplement. There's no need to talk about what other supplement companies put in their products to make manufacturing cheaper and faster. Our focus is on you. To help you live a long, healthy life by making Rebalance as clean as the crystal-clear waters of a glacial lake. That means it is 100% Vegan. Zero inactive ingredients. No GMOs, no corn, no gluten, no soy, and no mixing agents or fillers.
Synergistic Blend of 9 Powerful Ingredients
You won't find another formula like this on the market because it simply does not exist. Dr Stern spent years researching each and every ingredient to find which ones work best together to maximize your results.
How to Use
Daily Usage
Rebalance works best when taken everyday on an empty stomach.
Maximize Results
Rebalance is an amazing natural supplement to add into your routine to help improve the way you feel. However, supplements are only one piece of the puzzle. A healthy diet, exercise, as well as mediation/stress management are additional tools that can amplify results.
Pairs Well With
If you're looking for an extra health boost, try pairing Rebalance with our Sleep & Stress Formula, Relax.
This supplement is amazing 👏
This supplement is amazing I cannot live with out it I been taking it for 2 years and leaving it in the fridge makes it work so much better thank you so much for this product I will be looking forward to taking a multi vitamin from this company as soon as it's available ❤️.
Rebalance
Have been using Rebalance for years and it remains my top preference.
Thank you for sharing your experience, Elizabeth! We're happy to know how Rebalance is helping you stay healthy
The best
Love this immune balance Supplements
Thanks, Fareha. Very happy to hear how well the product is doing for you. Please don't hesitate to reach out if you have any questions.
Rebalance Probiotic Formula
I feel better since i am taking rebalance probiotic.
Thank you for the review! :)
Definitely helping!
I'm into my second bottle of this product. I sought this product after dealing with a lot of bloating, gas, and suddenly acid reflux. It has definitely been helping my digestion since day 1. I aim to take this product a little before eating a meal (usually breakfast, but I have taken it before lunch or dinner). I am no longer experiencing acid reflux, and my bloating and gas after meals has considerably improved (I keep a mostly plant based diet). Definitely recommend!
That is great news! Thank you so much for sharing your experience with Resilient formula. :) Always feel free to reach out if you have any questions or concerns.